Earlier this summer, Fiona Gillogly- a high school student from Northern California- participated in IBP's advanced bird banding class hosted by Wolf Ridge Environmental Learning Center in Minnesota. Fiona attended the class on a scholarship from the Central Valley Bird Club in California. Below is the essay she wrote for the Bird Club about her experience with the class. If you are interested in enrolling in, or hosting, an IBP banding class, please visit our Bird Bander Training page.
It's 4:30am and I am wide awake. A few early morning birds are singing from the aspens and conifers in the grey-purple light of dawn. As the sun starts to rise, we head down to the Forest Ecology Building to set up the nets, open our Pyles, and start banding. This was how my adventure began this summer.
Dani Kaschube instructing Fiona during the bird banding course at the Wolf Ridge Environmental Learning Center.
My name is Fiona Gillogly and I just turned eighteen. I have been a birder since I was eleven and a bird bander since I was 15. For the last six years, I have kept a nature journal and I love to go outside and draw. Thanks to a scholarship from the
Central Valley Bird Club
, I was able to attend the June 2021 Advanced Bird Banding Course at Wolf Ridge Environmental Learning Center in Finland, Minnesota. This five-day adult course, taught by Danielle Kaschube of The Institute for Bird Populations and hosted by Wolf Ridge, was an incredible opportunity for me to improve my skills banding, extracting, and taking data on birds, and to see lots of beautiful birds up close.
Each morning, we started banding at dawn, setting up at least two different routes of mist nets. Going on net runs was so incredible, not only because there were amazing birds in the nets, but also because the scenery was gorgeous. Columbine and daisies lined the sides of the path and tall birches created a leafy canopy. I got a lot of practice extracting the birds from the nets, and often I was extracting birds I had never seen before. Once, when I walked up to a net, I found a Black-and-White Warbler in it. That was the first time I had ever seen that bird, and it was magical to carefully extract it from the net and bring it back to the banding station. I am from the West Coast, so most of these birds were very exciting for me. I also got to band a Cedar Waxwing, a bird that I see regularly at my home in California but have never gotten to study so closely. I learned so much about that bird just from banding it, even though I had seen it many times before in the berry bushes near my house.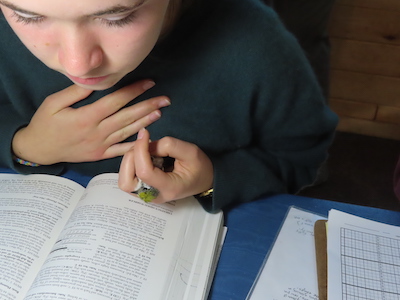 Fiona consults the Pyle Guide while banding a Chestnut-sided Warbler.
Back at the banding station, I had the chance to learn from MAPS coordinator for IBP and teacher extraordinaire, Danielle Kaschube. I had never worked at a MAPS station before, and so she taught me about all the protocol. Dani was very patient and helped me so much by checking my work and giving me little tips to make whatever I was doing easier. I also got more experience using what bird banders affectionately call Pyle. The Identification Guide for North American Birds by IBP biologist Peter Pyle is a bible of sorts for bird banders. It is very dense and complicated and takes some getting used to. Before this class, I feared Pyle. Now I love it.
Each afternoon, Dani taught a class where we learned about aging birds, aging feathers, and molts using Joe Birds to help us. Joe Bird is basically a typical bird outline that can be filled in according to different molt patterns of different species as a tool to learn those molts. Each age of feathers has a different color: red is juvenile, green is formative, yellow is alternate, and blue is basic. This Joe Bird model technique was very helpful. We drew little diagrams and colored them in, and this practice helped give me a better grasp on molt patterns in general. We also looked at photographs of bird wings and aged the feather tracts to help us determine the age. Depending on what combination of ages are on the wing, it's possible to read the wings and tell the age of the bird.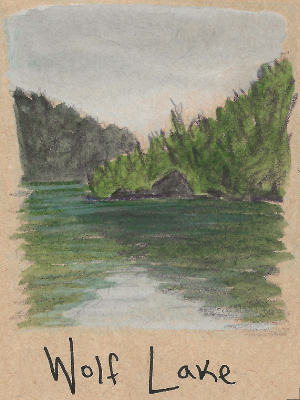 An illustration from Fiona Gillogly's nature journal. Fiona Gillogly, age 18, www.fionasongbird.com.
In the evenings, after classes were over, a group of us worked on our homework together, and we had so much fun. It was such a great experience to be with people that are just as nerdy about birds as I am, and some of them also talked with me about college and career options.
In addition, I enjoyed documenting the whole experience in my nature journal. When I wasn't banding, I was sitting in the corner drawing the birds that the other students were working with. It was so much fun to not only band the birds but also sketch the birds that others were banding. I learn so much by drawing since it makes me look again and again, and so sketching the birds as the others took data on them helped me learn from the birds even though I wasn't the one banding them.
I am so grateful to the Central Valley Bird Club for the scholarship, Wolf Ridge for hosting the class, and Dani for being an incredible teacher and helping me feel so much more confident. I am so excited to use my new skills next time I go out banding.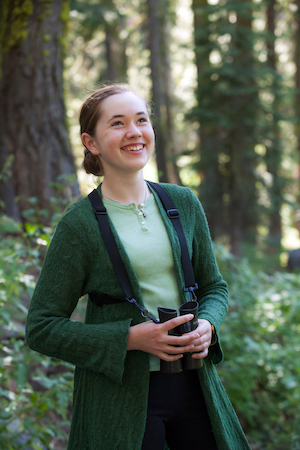 Fiona Gillogly.
Born and raised in Northern California, Fiona Clare Gillogly, age 18, is an avid birder, nature journaler, artist, naturalist, writer, actor, musician and advocate for nature. A five-time recipient of the Central Valley Bird Club Youth Scholarship, she volunteers her time with bird surveys, nest box monitoring, bird banding and bird walks. Her writing has been published in Birding magazine (the national magazine of the American Birding Association) and on NatureJournalingWeek.com. She has taught classes and given talks for many organizations, including Audubon California, the Exploratorium in San Francisco, World Migratory Bird Day, the San Francisco Bay Bird Observatory, the Point Reyes Birding Festival, Wild Wonder Nature Journaling Conference and the Central Valley Bird Symposium. Learn more at www.fionasongbird.com.