Dr. Andrew Kinslow fell in love with birds and field ecology as an undergraduate when he did a summer internship with Dr. John Faaborg and the Missouri Ozark Forest Ecosystem Project (MOFEP). His experiences censusing birds via point counts, mist-netting and spot mapping changed his life. Now, as a science teacher at Rock Bridge High School in Columbia, MO, he is using his field ecology skills and the MAPS bird banding program to change this lives of his students. He teaches a summer school field ecology course that includes bird banding, water quality monitoring and even a bit of astronomy. This year Dr. Kinslow opened a new MAPS banding station at the Boone County Nature School.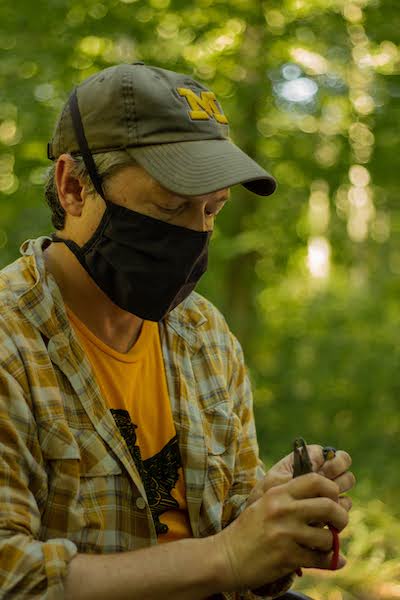 Dr. Andrew Kinslow during the 2020 MAPS season. Photo by Ian Hendrickson.
What made you decide to band birds with your students?
In 1996 I was a seasonal technician at Whitefish Point Bird Observatory. We had a lot of visitors to the observatory and one of my duties was to give periodic demonstrations for them. Being introverted, I dreaded the first demonstration.
I remember there was a little girl, probably 7 -10 years old who was there early in the morning, and clearly she did not want to be there. Naturally, I gravitated toward her since I also was feeling the same way. I knelt in front of her and showed her a hatch-year cedar waxwing. She held it briefly, released it, and her entire demeanor changed as she connected with that bird. She was so excited and in that moment I realized that communicating about science and connecting with the public was just as important as conducting the research.
Following that fall, I decided to return to school to explore best practices in experiential learning along with secondary science teaching certification. I earned a Master's in Education from Drury Univerisity in 1998 and a Ph.D. in science education from The University of Missouri in 2018. I have been teaching high school since 1998.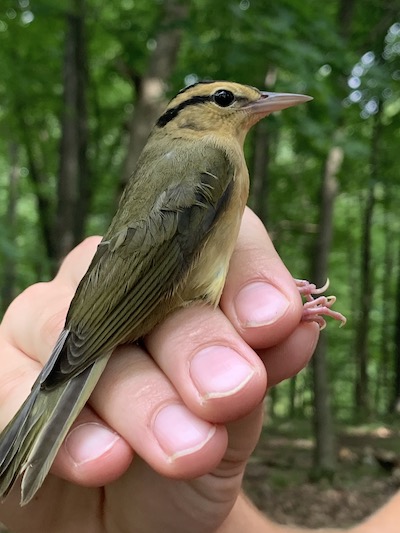 A Worm-eating Warbler photographed by Andrew Kinslow during banding.
My students and I have contributed to the MAPS program as part of a summer field ecology class since 1999. The summer school schedule works with the MAPS season and provides the flexibility to have the course outdoors in its entirety. Beginning with the Logan-Rogersville School District in 1999 (Rogersville, Missouri), and continuing today with the Columbia Public School District since 2018 (Columbia, Missouri), I have been fortunate to learn alongside my students as we perform ornithological research and water quality monitoring.
The goal of this project is to engage students in actual science research projects as citizen scientists and apprentice researchers in contrast to the scripted, predictable nature of laboratory events traditionally used in typical science instruction.
Why did you choose to be part of the MAPS program?
I chose MAPS because I wanted the experiences of bird banding to be more than just an occasional demonstration. I wanted students to experience an authentic research experience. Simultaneously, I believe we ask a lot of the birds with banding operations, and leveraging the MAPS program for science education makes the research even more valuable. Engaging students in research projects around these types of issues maximizes learning opportunities and promotes overall scientific literacy.
In order for students to become scientifically literate they need to have both the knowledge of science information and processes, as well as engagement with the societal issues impacted by scientific phenomena. Science learning has historically been focused primarily on learning science facts and has largely left out the contextualization of how scientists work and how science plays out in the messiness of society. Education research is clear that students need to learn science facts and processes alongside the nature of how science works and in the context of real societal issues.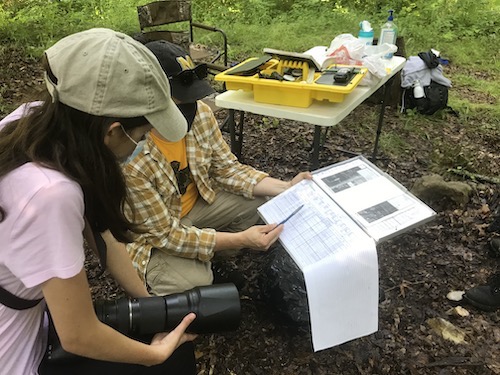 Dr. Kinslow reviewing the MAPS data sheet with a student. Photo by Sarah Mosteller.
What kind of training process do you have for your students?
Each year I begin by first guiding students through the research protocol and demonstrating the basics. We set up and take down our nets together, learn about how to safely extract birds, the banding process, measurements, etc. The first few sessions I recruit students from prior years to help train everyone. Gradually I fade these supports so that students operate more independently in the research processes.
The site is setup like a wheel with ten nets extending from the central station in three directions. We carry FRS radios to keep in contact when each team checks their 3-4 nets. The habitat where we have situated our stations over the years is fragmented deciduous oak/hickory forest with pasture and prairie edge and is such that we typically only catch a few birds each net run, with ample opportunity for discussion and safe handling of the birds.
Over the course of each summer, it is most rewarding to see students functioning independently and my role shift to guiding the banding process, double checking data entry, and just providing a few hints and suggestions. Each day and each new bird represent new challenges as we work and learn alongside each other.
What do you think your students get out of bird banding?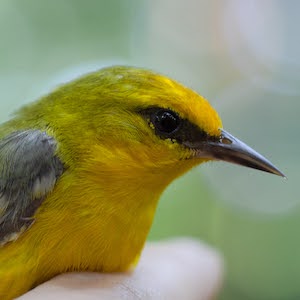 Portrait of a Blue-winged Warbler. Photo by Ian Hendrickson.
The productivity and survivorship of the birds we monitor depends on many complex ecological factors. Birds are environmental indicators and our work over time helps us understand human impacts on the habitats in which we work. At the new nature school site, we will be doing significant habitat restoration and my students will have an opportunity to look at changes over times in the bird diversity and numbers through our work.
I want my students to leave the class understanding how complex the ecosystem is, and how each of us contributes positively or negatively to environmental issues. I also hope the bird banding experience and other activities in the class reignite that joy of discovery that often can be lost.
The environmental issues we face today require citizens with a solid grasp of science as well as the ability to negotiate complex issues that shape our society. These citizens need an understanding of our connections with the environment and the passion to make a difference. These connections and passion do not readily come from textbooks and cookbook laboratory exercises. They are much easier to make when holding a wild bird and participating in authentic research experiences.
Do your students enjoy banding?
When I first proposed the program in 1999, I was worried that high school students would not be willing to get up at zero-dark-thirty to meet the bus to travel to the banding site. The first year I had 6 students participate and feedback was super positive. The program has grown over the years to the point where I may need to run two MAPS stations at some point to accommodate the students who are interested.
This year COVID19 provided serious challenges and my school district closed in-person summer school. Five students from last season (2019) kept asking for ways for us to get back out in the field. (They were persistent and apparently just couldn't get enough of being bitten by cardinals!) It was really inspiring to me that they truly wanted to get back into the field and do more bird work.
Dr. Kinslow's students during the 2020 banding season.
Simultaneously, Columbia Public Schools entered into a partnership with the Missouri Department of Conservation to develop the Boone County Nature School. I saw this summer as an opportunity to establish a new banding station on the nature school property and run a small crew for this first establishment year basically as a base-line year.
Many MAPS banders contributed suggestions for COVID protocols in April and I worked with school administration to develop a protocol to keep everyone as safe as possible – masks, physical distancing, frequent hand/tool sanitizing, etc. We had a very successful year and I have had numerous inquiries from students about next year's opportunities. I hope that this establishment year leads to another two decades of MAPS research leveraged for education at the nature school site. It is a wonderful collaboration between Columbia Public Schools, The Missouri Department of Conservation, and The Institute for Bird Populations.
Some reflections from Dr. Kinslow's students:
Tyler Dettmer, an incoming senior at Rock Bridge High School who has participated the field ecology class for two consecutive summers:
It is hard to choose one favorite bird that was banded in this MAPS season, but one of my favorites was the Red-headed Woodpecker. I liked it because it was one of the biggest birds we banded and had beautiful coloring, with the bright red head contrasting with the black, almost blue back, and white on the belly and lower wings. I also enjoyed taking a look at the zygodactyl feet and stiff tail, which most of the other birds we banded didn't have. It was a unique bird that I had never seen before, let alone held, and that's what made it one of my favorites.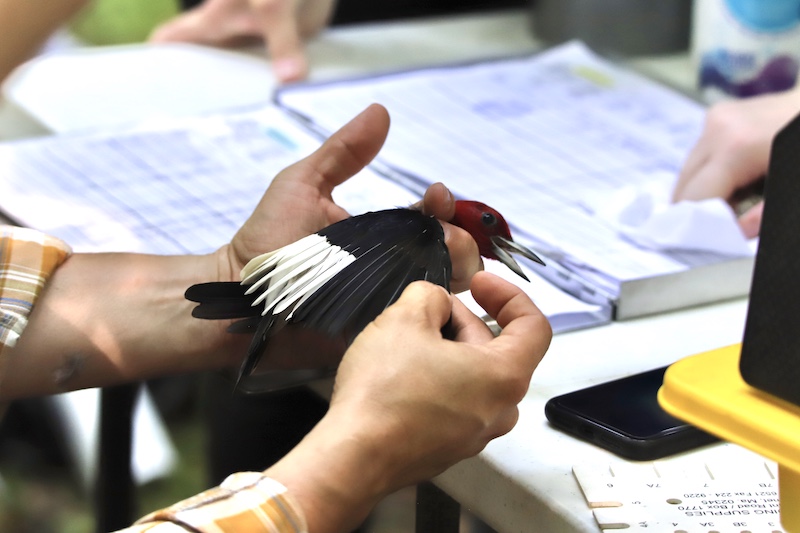 A Red-headed Woodpecker during banding. Photo by Sarah Mosteller.
Sarah Mosteller, an incoming senior at Rock Bridge High School:
I used to be out and about in nature all the time until I reached sophomore and junior year of high school and became overwhelmed with schoolwork and didn't have much time to get out. But, once COVID-19 reached the U.S. and we were advised to stay at home I started to get outside more. Spending more time outside and being able to participate in Dr.Kinslow's ecology class rekindled a love for nature that got pushed to the back burner when school became busy.
Rowan Schul, incoming senior at Rock Bridge High School who's taken Dr. Kinslow's class two summers in a row:
The number one thing that surprised me about bird banding was the brood patches. When you see birds flying around, at a feeder, or even in your hands, they look like they aren't missing any feathers, but then you blow on their belly and suddenly they have absolutely no feathers on their belly. This fact was just shocking to me the first time we saw it.
From Josh Russell, one of Dr. Kinslow's former students who is currently finishing a Ph.D. in seismology at Columbia University:
The bird-banding experience brought science to life for me for the first time in my education. In school, science had always meant passively memorizing facts in a book and being able to regurgitate them on the test. This experience showed me that science is really about active data collection and connecting different ideas to learn something new about how nature works. That realization was eye-opening for me as a rising senior in high school and put me on a path of exploration, which eventually led me to pursue a career in the field of geophysics.
I also gained a great deal of appreciation for conservation from the experience. It led me to volunteer for the Student Conservation Association the following summer, where I spent a month living and working at the Pictured Rocks National Lakeshore in the Upper Peninsula of Michigan doing trail maintenance work and further connecting with nature.
Although I'm not studying birds currently, I am still very drawn to the data collection aspect of birding and religiously log my observations is Cornell's eBird database.
IBP congratulates Dr. Kinslow on the new MAPS station at the Boone County Nature School and thanks him for sharing his experience using the MAPS program as an educational tool. We already knew that the MAPS program sustains an invaluable dataset that scientists can use to help conserve birds. It's fantastic to see how MAPS can also be used to educate and inspire future scientists and conservation-minded citizens.