IBP biologist Lynn Schofield fell in love with birds at an early age at the Minnesota Raptor Center. She first started working with IBP way back in 2005 when she did a summer internship with us surveying for Great Gray Owls in the Sierras. She went on to earn a master's degree studying migration patterns and movement ecology in passerines crossing the Gulf of Mexico. Later she returned to IBP as a biologist and has worked on many of our projects including conserving Willow Flycatchers in Sierra meadows, and how raptors like Spotted Owls and Northern Goshawks respond to fire.
Lynn at about age 10 holding a Red-tailed Hawk at the Minnesota Raptor Center.
These days, in addition to her work with IBP she volunteers with Golden Gate Raptor Observatory, helping to monitor the peregrine falcons that nest on UC Berkeley's Campanile Tower and running
the social media project "Cal Falcons"
that documents the pair's exploits. She's also raising a young bird of her own, her one-year-old son Vireo.
What was your first bird job?
My first experience working with birds was as a volunteer for the Minnesota Raptor Center. I helped to care for patients in the rehab center and took recovering birds out to exercise their wings before their release. It was privilege to watch birds build up strength and get ready to go free again.
I started at the raptor center just before a major Great Gray Owl irruption (perhaps it's more accurate to say the major irruption; I think it was the biggest influx of Great Grays on record) in 2004, when the Raptor Center took in hundreds of Great Grays. That meant that very first wild bird I ever handled was a Great Gray. I'm a lucky individual.
My first field job was the following summer as an intern with the Institute for Bird Populations. I worked in the Humbolt-Toiyabe National Forest conducting surveys for Great Gray Owls. Great Gray Owls haven't been confirmed in the eastern Sierra for decades, but there was (and still is) reason to believe that this was not necessarily due to a lack of owls but perhaps due to a lack of people to see the owls. We never found any that year, but I'm still not convinced that there aren't any Great Grays.
Lynn is also an accomplished artist. She painted this kestrel for the cover of the Pacific Raptor Report.
Hobbies?
I spend a lot of time hiking and birdwatching in my free time (so, a slightly more casual version of my work). I also volunteer as a raptor bander and educator at the Golden Gate Raptor Observatory.
Do you have a favorite bird?
Settling on a favorite anything is difficult, each species has unique features that make it interesting. Red-tailed hawks are high on my list of favorites because of their variability; all individuals are unique if you take the time to look at them closely.
What is your secret super power or odd talent?
I have a few useful back-country superpowers. I am not allergic to poison oak/poison ivy. I don't attract insects. I do well in hot and humid weather, too.
Never go into the field without...
A good elevator speech for when people ask you "what are you doing?"
Best bird memory?
My best bird memory is going to the Platte River in Nebraska with my dad to see migrating Sandhill Cranes.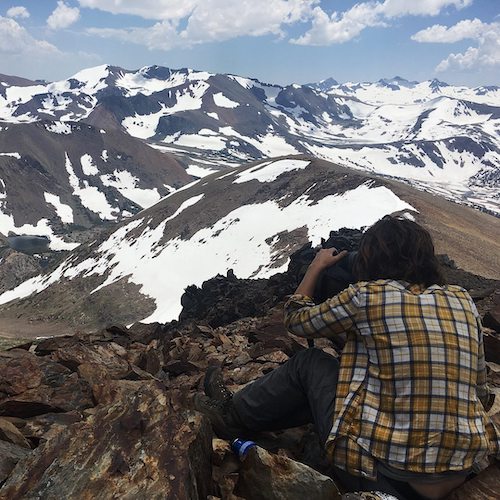 Lynn surveying for birds on Mt. Gibbs in Yosemite National Park.